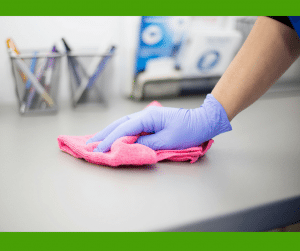 A clean, tidy office can improve company efficiency, especially if staff sickness is an ongoing issue in your company, your desk is lost beneath piles of paperwork and rubbish or the bins always seem to be overflowing with waste. Making time to carry out some basic cleaning tasks on a regular basis can improve the hygiene of your office, which in turn will make a real difference to the health and wellbeing of your team. Keep your office clean with our simple to follow advice.
Encourage regular hand washing
Dirty hands are one the easiest ways to spread germs and bacteria around an office. Office equipment, such as computer mouses, keyboards and telephones make fantastic habits for the spread of germs. If your staff share desks or often answer phones on other desks, having a robust hand washing policy will help to prevent contamination from desk to desk.
Tidy desks and clutter
A clear, tidy workspace will not only improve office cleanliness but help to increase efficiency and productivity too. An organised desk is also significantly easier to keep clear of dust and grime. Dirty cups and plates should be cleared and cleaned as soon as possible and certainly not left to fester.
Empty bins every day
Getting in the habit of emptying the bins in at the end of each day is a superb way to draw a line under the working day while keeping your work area clean and fresh. If a group of workers share a bin, a duty rota will help to share the burden and prevent the task being delegated to the most junior staff member.
Encourage staff to have lunch away from their desk
Eating at their desk is one of the most unhygienic, yet common things office workers do. Crumbs and splashes, and morsels of food can easily accumulate between the keys on a keyboard, creating a haven for illness-causing bacteria. A room, or area of the office reserved for eating gives your team a chance to get away from their desks for a while. This keeps working areas clean and provides a welcome break for your staff, meaning they will be more productive when they return to their desks.
Hire the professionals
At Zi Technical Services, we understand that your team is already busy completing their day-to-day tasks and may not welcome additional cleaning tasks added to their daily and weekly schedules. Outsourcing your office cleaning can be a cost effective way to keep your office clean and tidy and your workers healthy. From regular vacuuming and wiping down of desktops, IT equipment and furniture with disinfectants to hard floor maintenance and gutter cleaning, if you need cleaning services, think Zi Technical Services. Contact us today to organise a free site visit and quotation.